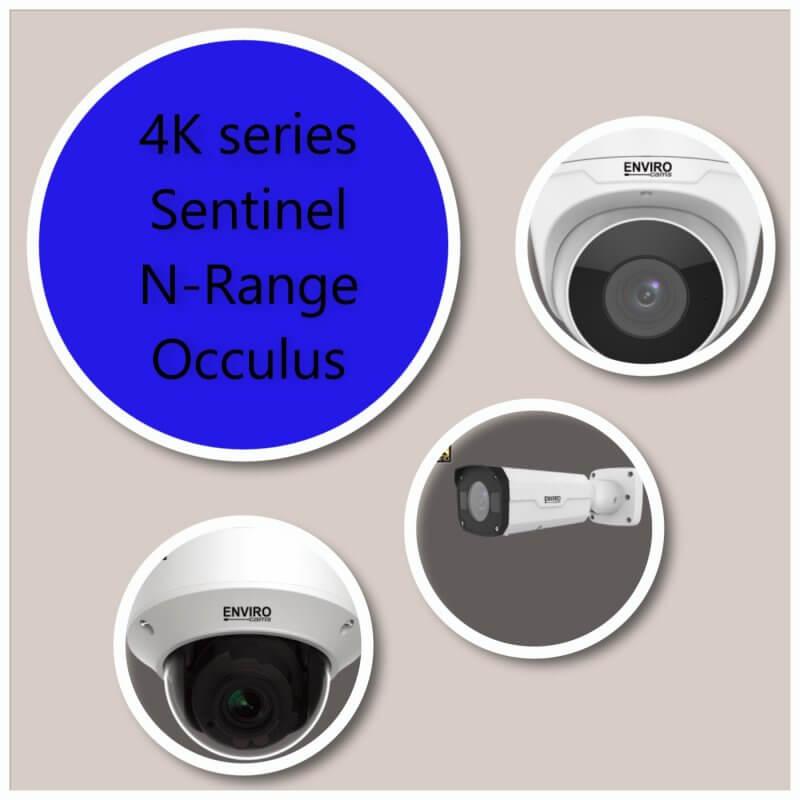 Here at EnvrioCams, we are expanding our 4K IP Camera line. We now building more and more of our cameras in 4K Resolution as well, but what makes the camera a 4K IP camera? That answer is the high video resolution these IP 4K cameras have, 3840 x 2160 resolution video 4K has 4x the number of pixels compared to full 1080p HD video. So let us put it this way, at 75ft with the 4K IP Camera, you will still be able to identify a person, but with the 1080p HD video, you can only tell a person is there (no features).
In our bullet line of 4K IP Cameras, there is the N-Range-4K, an 8 Megapixel Motorized Lens Infrared Bullet Camera. The 4K Parking Lot Panoramic is an Infrared Multi-Sensor – 180-Degree – 8 Megapixel. 
In our dome line of 4K IP Cameras, there is the Occulus Moto-Dome – 4K 8 MP "4K" Infrared Turret IP Camera with Motorized Lens. The Panoramic – 4K can replace 4-6 regular cameras, especially in single room applications. The Sentinel-IR 4K Moto-Dome is an 8 Megapixel Infrared Network Camera with a Motorized 2.8-12mm Auto-Focus Zoom Lens.
In the Pan Tilt Zoom line of cameras, we have the PTZ-4K-22 is a 12 Megapixel Indoor/Outdoor PTZ Camera that is one of only a handful of 4K PTZ Cameras available – ANYWHERE!
With these 4K IP Camera, your video will have more clarity and clearer details of an object than ever before. The digital zoom will provide twice the clearer image than a 1080p camera along with a broader field of view to cover more areas. With the feature of high-efficiency video coding (HEVC), also known as H.265, which keeps the video file size low without losing the 4K crisp image quality.
EnviroCams is one of a few companies that offer 4K IP Cameras, contact one of our Design Engineers toll-free 866-264-0041 or stop by our website at envriocams.com.