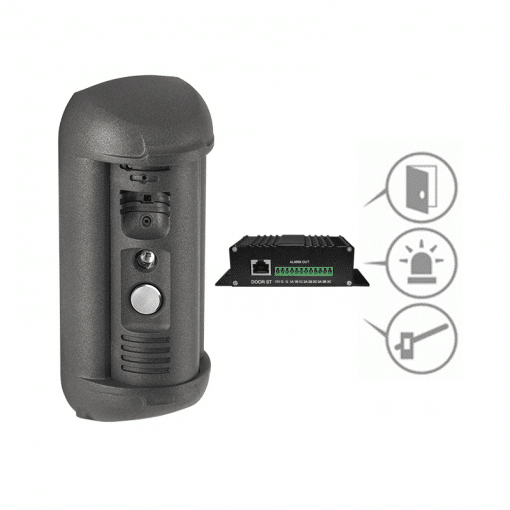 Would you like to see who is at your door or gate before you open it? Then our NEW doorbell intercom is just what you are looking for; this no ordinary doorbell. See wide-angle high definition video of who is there, answer through your PC, your smartphone, or a tablet from anywhere in the world.
This smart device will play a doorbell chime on your phone or PC or even a VOIP phone, and you can speak two-way to the visitor and then decide to activate one of three relays that can be connected to a gate opener, lights, or any other device that you need to activate.
A plus of this device is that all the interaction is being recorded either on your PC or your phone. It can even be recorded on your IP Network Video Recorder if you decide to connect it.
You can look at the video anytime you want, even if no one is there or has pushed the doorbell button.
This vandal-proof door & gate intercom system can be positioned to look in any direction and can be locked in that direction so that it cannot be moved. It gives you a high definition IP video with a 1.3 Megapixel day-night infrared camera and has crystal clear audio as well.
Our doorbell intercom can be used for short-distance like your delivery / back door or long-distance like gates. When used at the entrance of a business, you would need to connect it to your WiFi so that it can reach your PC or phone anywhere you are. This device can transmit up to 328 feet over CAT5/6 or can be paired with our long-range wireless system either to 6500 feet or up to 9800 feet. There wireless transmitter/receivers need line of sight, and will not work in wooded areas or with other obstructions in the way.
This device can be powered by 48V POE or with 12V DC. Do not use POE and a 12V power supply together. POE supplies a 12V DC output if needed.
These doorbell intercom systems have so many features and applications it is hard to list everything here. Contact one of our Design Engineers toll-free at 866-264-0041 or stop by our website at envirocams.com.