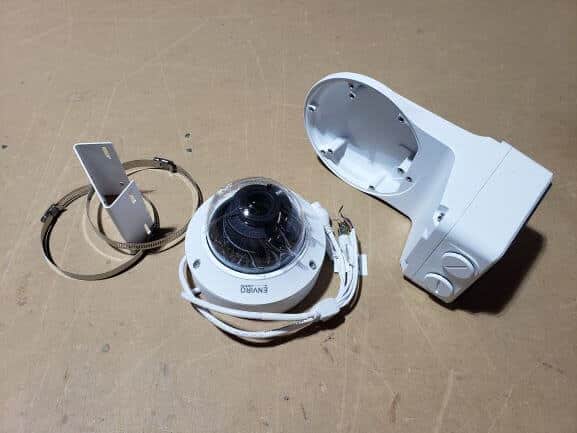 Moto-Dome
The Sentinel-IR Moto-Dome is a 2 Megapixel Infrared Network Camera with a Motorized 2.8-12mm Auto-Focus Zoom Lens.
One of the unique features of this camera is that the Infrared Lamps are hidden. You won't be able to tell that this is an Infrared camera. Yet the Powerful Hidden Lamps can throw IR Light out as far as 100′ on a moonless night. So the Sentinel-IR makes an excellent Low Light Surveillance tool. (Note: as with any infrared dome camera, a smaller space with something to bounce the Infrared light off is the best place to use a dome camera outdoors. If you have an open field with nothing to reflect the light, use a bullet camera or other strong Infrared source).
One of the top features of this camera is the REAL Optical WDR (Wide Dynamic Range – with 120dB gain) from Sony. Unlike Digital WDR, this feature, when turned on and fine-tuned, can help with blinding glare and when the sun is behind a person, you are trying to see. This feature is yet another tool to tailor this camera to wherever you need it – despite the prevailing conditions.
This IP Camera works well indoors and is hardened for outdoor use as well. For example, this dome camera is not only IP67 Weatherproof Rated for outdoor use in any weather, but is also IK10 Vandal-Resistant Rated. This means that this camera has been tested with the equivalent of a sledgehammer weighing more than 11 pounds – being dropped onto the dome from about 18" – with no damage.
Add in the fact that this camera is rated down to -40 below and +140 (F), and you have a camera that is ready for anything you can throw at it.
Additional Features
Eight hundred feet + for Power & Video over normal Cat5e (when connected to any Enviro Cams NVR or POE Switch with extended distance turned on).
Operates on POE voltage (48V) and/or 12V DC (12V can be used as fail-over voltage – AND – the 12V plug can also be configured to output 12V DC under certain situations if needed)
Micro SD Card can be purchased (pre-formatted for use in the camera) and can be used as stand-alone recording or as a fail-over if POE Power is cut. When POE is restored, the card will automatically download all the recordings to the NVR.
Supports many Smart Analytics – People counting, Face Detection, Line Crossing, Intrusion, Motion, etc.
This camera has Audio input wires and Audio output wires. This makes it possible to add an external Mic, or even to have Two-Way Audio.
It also has 1 Alarm input cable and 1 Alarm output. This can facilitate many scenarios. For example: connect a door sensor, and turn on a light or siren (no voltage present, so an Interface or Relay will be needed).
The Sentinel-IR is covered by Enviro Cams 3 Year Warranty.
For more information on the IP dome camera, contact one of our Design Engineers toll-free 866-264-0041 or stop by our website at envirocams.com.