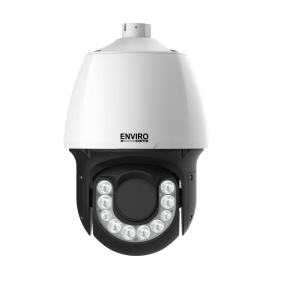 Indoor/Outdoor Starlight Full Spectrum PTZ
The Spectrum-22 is an Indoor/Outdoor PTZ Camera that has two types of lighting – Infrared and also White Light. At night, when the camera is not zoomed in, the White Lights are on. As you zoom in, they grow in intensity, then after about halfway (around 90-100 feet), the Infrared Lights kick on, and the White Lights turn off.
This 2 Megapixel Starlight Network Camera works great anywhere you put it – Indoors in warehouses or other large spaces. Thanks to being weatherproof, at any outdoor location, it is needed. At a Gate, a Driveway, Restricted Areas, or building entrances.
Since the Spectrum-22 is also a Starlight Camera, it can pull in details under longer distances where the Infrared Lamps may no longer be very strong.
The light-gathering Starlight Sensor doesn't need much light to deliver a color picture, and if the light is too low to produce a color image, the camera will switch to black & white.
Smart IR
The Infrared Lamps can cast out their invisible IR Light to as far as 650 feet! Plus – they are controlled via Smart IR, which controls the brightness based on the picture – if something is too close and starts glaring too much white in the image, it turns down the brightness.
One of the unique features of this small, yet powerful Pan/Tilt/Zoom camera is the 22X Zoom Lens. This lens has a faster Auto-Focus sequence than most PTZ's and can deliver a sharply focused image quickly. This Motorized Zoom Lens (6.5mm to 143mm) is intended to see people, vehicles, and other items of interest at a distance.
Notice that the lens starts at 6.5mm. This is not wide-angle and is intended to zoom down hallways, all the way across a warehouse, out to a gate or perimeter fence, or to zoom in on processes or machinery. The view starts at about 70 degrees wide, then zooms in to only 3.76 degrees wide. So that should give you a pretty clear picture of what this camera is designed to do. It's made for Zooming in to see detail (Digital Zoom can also be turned on).
This PTZ can have as many as 256 Preset positions, can run Patrols, Routes, or even learn a patrol based on where you have directed with the controls. It remembers your inputs and saves them.
It also has a Home position that it will return to after a time you have set.
This PTZ Camera delivers 1080p resolution at 30fps, and can also be set to 720p or lower if needed. It also can carry an SD Card for stand-alone or emergency backup recording (up to 128Gb).
Wide Dynamic Range
One of the great features of this camera is the REAL Optical WDR (Wide Dynamic Range – with 120dB gain) from Sony. Unlike Digital WDR, this feature, when turned on and fine-tuned, can help with blinding glare and when the sun is behind a person, you are trying to see. This is commonly encountered in a warehouse setting when a Bay Door is up, and the sunlight is causing glare. This feature is yet another tool to tailor this camera to wherever you need it – despite the prevailing conditions.
This IP Camera is Outdoor Rated (IP66), and also works well indoors in larger spaces. It is even hardened with an IK10 Vandal-Resistant Rating. This means that this camera has been tested with the equivalent of a sledgehammer weighing more than 11 pounds – being dropped onto the dome from about 18" – with no damage.