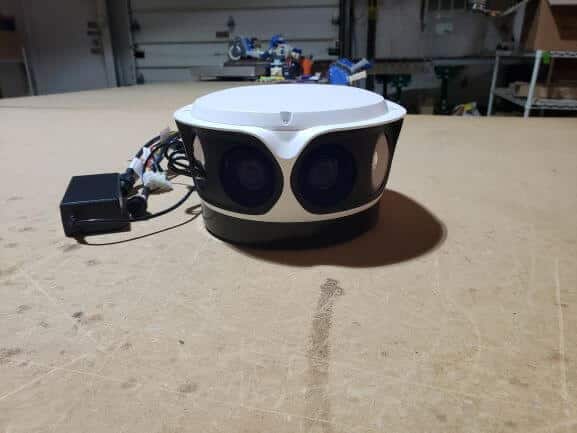 Infrared Multi-Sensor – 180-Degree – 8 Megapixel
The 4K Parking Lot Panoramic uses four separate Cameras to seamlessly stitch together a 180-degree view of broad areas, such as Parking Lots. The picture is seamless – you will not be able to tell that it is not a single wide-angle camera – except that it's not a fisheye lens.
This 4K Panoramic Camera can take the place of 4-6 regular cameras because it can cover a large area, and is designed for that purpose.
This Starlight Panoramic sports four lenses (4.2mm each) have our Extended Distance ability (820 feet) over CAT5/6 and have Two Fiberconnections built-in. It's Fiber Ready!
This camera also has our exclusive H.265+ algorithm to get half the bandwidth and storage ability as normal H.265 – and four times as much as H.264.
The Enviro Cams Parking Lot Pano features Smart Infrared to throttle the power to the Infrared Lamps as needed automatically. This results in Infrared Light out to approximately 165 feet on a moonless night. Or, you can turn the Infrared Lamps off and go into Starlight Mode as well.
This large-format camera (It's enormous!) is rated to IP67 waterproof and runs on 24V AC or DC voltage. It's built like a Tank!
This camera can also interface for two-way communications and has audio and alarm inputs and outputs.
Tons of features are included with this remarkable camera. 
For more information on the IP 4K camera, contact one of our Design Engineers toll-free 866-264-0041 or stop by our website at envirocams.com.