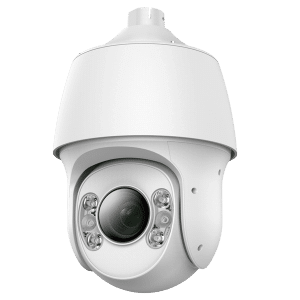 Low in Cost but Rich in Features
We are proud to offer the Scout IP as our lowest cost IP-PTZ (Internet protocol- Pan Tilt and Zoom) Camera with a 22X Motorized Zoom Lens (5.2mm to 114.4mm), and both long-range and wide-angle Infrared lamps, which can throw Infrared light out to as far as 490 feet on a moonless night (normal range of around 300 feet).
Scout IP is a 2 Megapixel, 1080p PTZ Camera has Digital WDR (Wide Dynamic Range), and many of the features of our very best PTZ Cameras, at a truly affordable price.
Our Scout IP is an IP66 rated PTZ Camera can be used indoors or outdoors and comes complete with two different types of mounts: a Long Arm Wall Mount, and also a Flush Pendant Mount for mounting to ceilings or beams.
The Scout IP is an Infrared PTZ Camera that comes complete with a 12V DC 3.33 amp Plug-In Power Supply in the box. So nothing else is needed for operation.
Like all of our Enviro Brand cameras, it has a slot for an SD Card for stand-alone or Network Loss operation.
Now for the best part –
This low-cost PTZ is rated to -40 degrees below zero, and 149 above. It also can operate in our Exclusive "Extended Mode" out to 820 feet away from the NVR or switch.
You can program up to 1024 Preset Positions and be programmed to perform a Preset Patrol Route, and a Recorded Patrol sequence.
Best of all, the Scout IP PTZ Camera is covered by our 3 Year Warranty.
For more information on our IP-PTZ, contact one of our Design Engineers toll-free 866-264-0041 or stop by our website at envirocams.com.