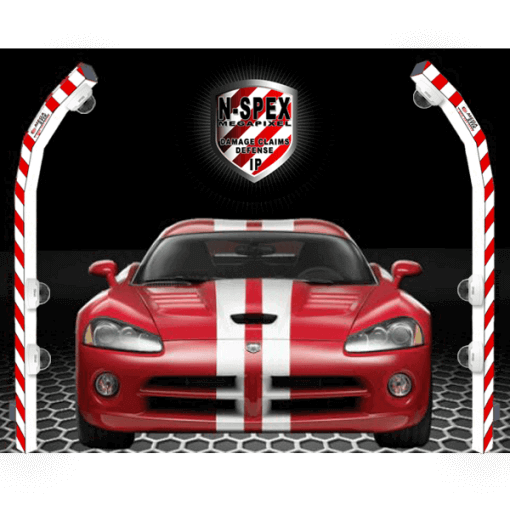 The N-Spex IP System (Vehicle Damage Inspection System) is used to document vehicles from various camera positions and angles as they enter the facility, during the process or service, and as they leave the facility. Authorized personal may view Live or recorded footage of each vehicle to detect damage or unsafe conditions and quickly determine if the damage or hazardous condition was pre-existing, happened while at the facility, or left the facility.
EC-MegaSTIXIP is two free-standing legs, six cameras, top caps, cabling from the camera end down to the electrical box on the bottom of each leg. Waterproof connectors are used on both ends.
The Micron-IR Pocket-Dome is a 4 Megapixel Infrared Network Camera. The 2.8mm Fixed Lens is Super Wide (90 degrees) and is best used where the area being watched is close. For example, when watching a door entry or exit – the place that will be in the best focus is approximately 8-12 feet out. Anything farther out still looks excellent, but the best focus is within that 8-12 feet.
One of the great features of this camera is the REAL Optical WDR (Wide Dynamic Range – with 120dB gain) from Sony. Unlike Digital WDR, this feature, when turned on and fine-tuned, can really help with blinding glare and when the sun is behind a person or object you are trying to see.
The N-SPEX STIX will give you a view of:
Left Side STIX: Left Top of Vehicle, left Side, Front of Vehicle & License Plate
Right Side STIX: Right Top of Vehicle, Right Side, Rear of Vehicle & License Plate
For more information on the N-Spex IP System (Vehicle Damage Inspection System), contact one of our Design Engineers toll-free at 866-264-0041 or stop by our website envirocams.com.