Purchase your special someone a 16 channel IP Camera package from EnviroCams.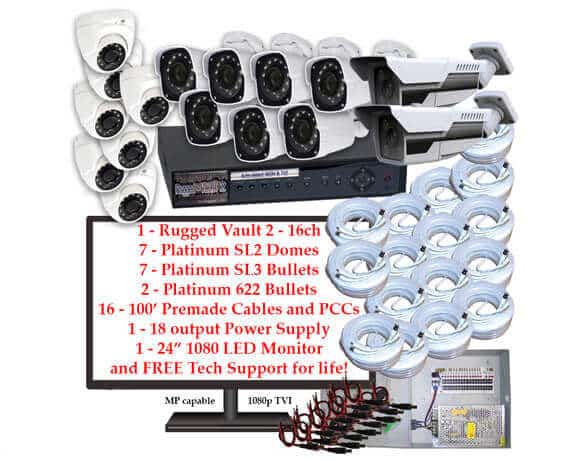 Premium All-Inclusive System
View on Smart Phone, tablet, or PC
1 – 16 Channel NVR – 8TB Storage: with all the features, not a stripped-down model, and the same three-year warranty. Features like: Plug-N-Play Automatic Connections (Put an end to setting each IP address – Let Enviro Cams do it automatically!) or Extended Distance for Audio/Video/Power (820 Feet Over Cat5/6)
8 – Occulus Dome Cameras with junction boxes: with features like Motorized 2.7mm to 12mm Varifocal Auto-Focus Megapixel Lens and Optically Clear Glass front protecting the lens that maximizes the amount of light reaching the lens, and a specially made polycarbonate ring covering the IR LED's, that has a special coating that controls reflection and passes Infrared Light easier and farther
6 – Bantum-4M Bullet Cameras: with features like 4 Megapixel (2K) with a built-in microphone. It gives you excellent high definition video indoors or outdoors and picks up audio very well.
2 – i-Patrol PTZ Bullet Cameras: with features like turn 250degrees, and can go 50 degrees up and 50 degrees down (100 degrees total). Try turning your head around 250 degrees. It isn't easy. That's why this camera works well on corners and down hallways as well. (Pan Speed is up to 30 degrees per second, and Tilt Speed is up to 10 degrees per second).
16 – 100′ Pre-Made Cat5e Cables
1 – 24″ Color 1080p LED Monitor: The LED-backlit LCD color monitor presents a very rugged structure. It is designed for continuous operation and can be used in closed-circuit TV systems without excessive fatigue risks.
For more information on the 16 channel IP camera package, contact one of our Design Engineers toll-free at 866-264-0041 or stop by our website at envirocams.com.