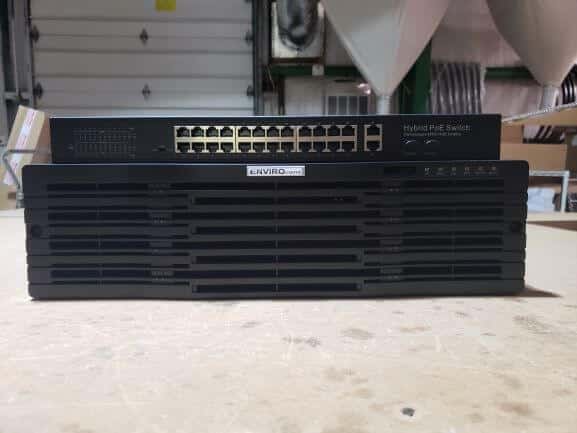 Included Storage:
 128 Channel NVR – 64TB Storage
ENJOY TROUBLE-FREE OPERATION
How massive is your facility? Do you think you have to have more than one NVR System? Check out this Network Video Recorder, a 128 Channel NVR, referred to as the "16128" series. The first two numbers refer to how many hard drives the unit can hold, and the last three numbers denote how many channels or cameras it can accommodate.
The NVR comes standard with many ways to record: full-time, motion-based, alarm or event, and time or schedule-based recording. We have them set-up for motion-based type recording when you take it out of the box. 
All our NVR comes with these smart features: face detection identifies human faces in a digital image. Intrusion detection monitors for malicious activity. Line crossing detection a pre-defined virtual line that detects when people, vehicles, or other objects cross it and alerts you. The scene changes the ability to be alert to something missing like a computer. Audio exception (camera with or set-up with microphone) to capture a conversation or other essential sounds that need to be recorded. Defocus detection if there is an image out of focus in the video and causes the image to become blurry. Auto tracking (PTZ camera) will automatically track the moving objects/people and adjust the focus.
We invite you to watch our videos about accomplishing everyday tasks with our NVR's (on our Tech Support page). We make it simple and easy. Most settings are pre-configured so that your NVR will operate how you need it to – right out of the box.
To get more information on the NVR, contact one of our Design Engineers toll-free 866-264-0041 or stop by envirocams.com.