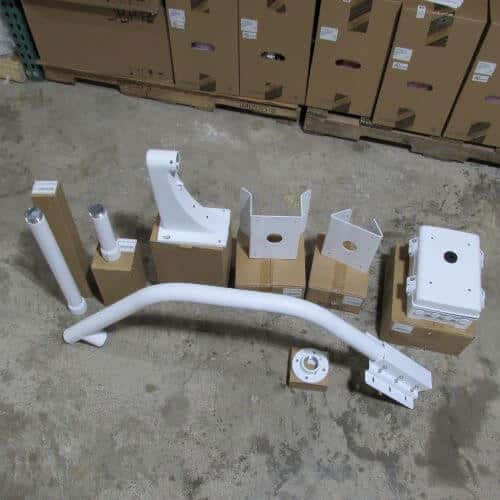 When installing a security camera system, you want to make sure you install them in the optimal place for capture video from the correct angle. Sometimes this means you will use a camera mounting bracket or a junction box for that camera. We carry several junction boxes, pole mounts, and wall mounts for Bullet, Dome, and PTZ cameras.
Our camera electrically isolated junction boxes came with an installation template, screws, and sheetrock inserts. Each one of these junction boxes is made to fit the camera. A foam insulating/isolating pad on the back of each junction box makes them safe from any transient voltage or ground problems when mounted on a metal structure.
Our camera wall mount brackets came with an installation template, screws, sheetrock inserts, and machine screws to mount the camera to the wall mount. They are made to fit the Dome and Panoramic cameras. The wall mount bracket allows the view to be almost straight down or straight to the side.
Our camera pole mount brackets came with band clamps for the pole and bolts to install the camera to the bracket. When ordering a pole mount bracket for our Dome camera need to include a wall mount bracket.
Remember when installing a camera surveillance camera system, you have to get the correct angle for the video, and sometimes you need help from the camera mounting brackets and junction boxes. We have a complete line of stable platforms to provide a wide variety of angles for your cameras. For more information, contact one of our Design Engineer toll-free at 866-264-0041 or envirocams.com.