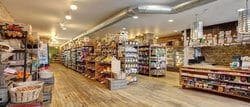 We know that it is more important than ever to have eyes everywhere in your retail store, you not only have to be on the lookout for the wrong customers but also have a watchful eye on your employees. So we here at EnviroCams have Pre-Packaged IP Camera Systems for Retail Store, or we can custom design a system for you. We can design the custom system for property or facility but using a picture, Google Earth, or even a napkin sketch with extra attention to your problem areas. Our pre-packaged camera systems are set up NVR and four to sixteen cameras. Our system can transmit video, audio, and power up to 820ft over cat5e/cat6 cable without repeaters.
All of our IP systems are plug-n-play with no IP addressing to set-up. Install cameras at the desired area and run your high-speed network cables back to the NVR, then plug in your cable, and within seconds you have a picture and can start watching that area.
When we are asked to design an IP system for your retail shop, our Design team will ask some questions like if you have problem areas, how about facial recognition, would you like alarm input or alarm outputs feature. We can suggest the best type of camera that will work in that area, like maybe a bullet, dome, or even a PTZ to cover that area. Many times our Design Engineers will specify a Recorder with more camera channels than needed to make it easy to add additional cameras in the future.
We can usually design and ship a complete system within 24 hours. To get more information on our Pre-Packaged IP Camera Systems for Retail Store or to have a system design for you contact one of our Design Engineers toll-free 866-264-0041 or stop by our website at envirocams.com.