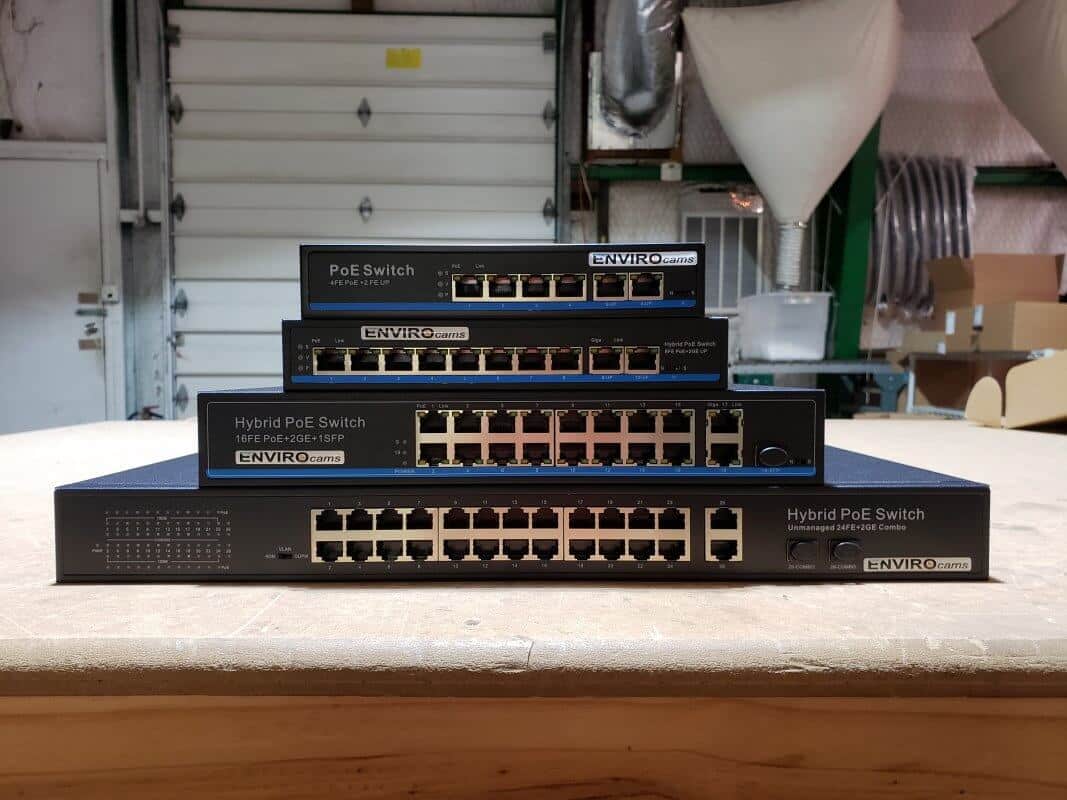 With the advancements of the IP camera security systems, there are also advancements with the PoE switch. These PoE switches come in the following models: 4 port, 8 port, 16 port, and 24 port. A PoE switch can now go long distances, automatically detect the correct wattage standard and deliver either 15 watts per outputs or 30 watts per output, based on what each camera or device needs. They even have a Fiber port that delivers a 2 Gigabit stream.
These switches have now been optimized to not only carry High Megapixel, High Bandwidth IP Cameras, but also to effortlessly accommodate multi-camera Wireless Access Point equipment as well, with the capability to handle a total of 2 Gigabits of Data. The Gigabit Uplink Port can work with Single-Mode and Multi-Mode Fiber.
On the front of each switch, there is a 2-position (or a 3-position switch on some models), switch with settings for the environment and equipment that you need. The two parameters are:
N- Normal Mode: distance is normal
S- SUPM Mode: Long Distance operation (up to 250 meters when using CAT6 or higher cable).
(Note: some models have a 3rd position on the switch that puts it into VLAN mode, where the ports cannot communicate with each other. The 16 is the only model with a 2-position switch). With the two different parameters that are featured with these PoE switches, you can start out with the Normal mode, and as the systems go, you can switch over to the SUPM mode and not have to change PoE switches. 
The 16 and the 24 channel units come with rack-mountable ears.
To find out which one of our Long-Distance High Power PoE Switch is right for your system, contact one of our Design Engineers here toll-free 866-264-0041 or stop by our website.