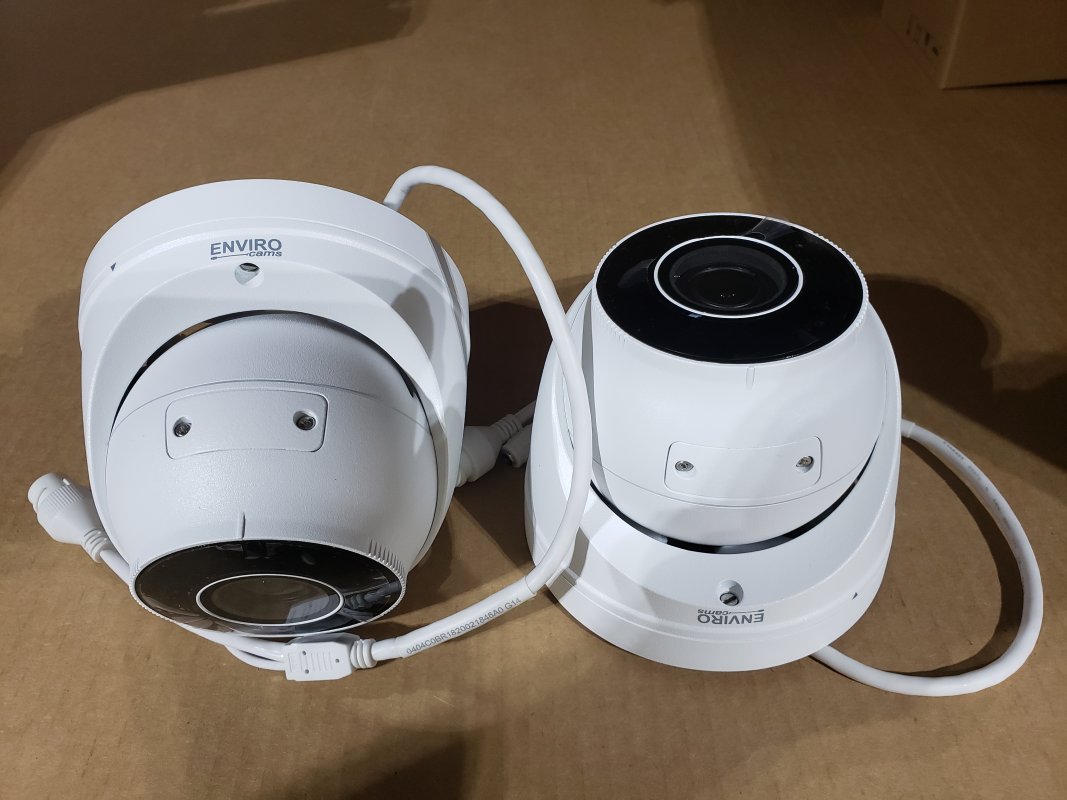 In our IP dome camera series, we have two Occulus Moto-Dome. One is an 8 Megapixel Resolution (4K), and the other is a 4 Megapixel Resolution and packed full of features.
The top number one feature is the 820 Feet Video/Audio/Power over normal Cat5e (When using our Enviro Cams NVR's in Extended Mode). Meaning you can run the Camera out 820 feet away from your NVR (switch) and have video, power, and audio on the Camera.
The Occulus has a built-in microphone so that you can communicate with the person at a gate or door.
This IP dome camera is rated IP67 Weatherproof great for indoor and outdoor use. With a Wide Temperature Rating: (-40º below to +140º F) this Camera can be used in a cold place like a freezer or a hot spot like a warehouse.
Wide Dynamic Range feature also gauges the light to reduce glare from headlights at night, to see through a door or glass storefront when the Sun is shining in and makes it where you can clearly see a persons face, even when strong sunlight is trying to blind the Camera. This feature also works well with glare on wet concrete or when the light is blinding from a chrome bumper or from glass reflections. Only WDR can help to solve these problems.
Optically Clear Glass front protecting the lens that maximizes the amount of light reaching the lens, and a unique made polycarbonate ring is covering the IR LED's, that has a special coating that controls reflection and passes Infrared Light easier and farther.
The Occulus Moto-Dome Camera operates on POE (IEEE802.3af), or 12V DC (both inputs provided), and typically only pulls 3-4 watts during the day, but at night with the Infrared Lamps on and the motorized Zoom lens operating, it can pull a max of 8.16 watts.
The Occulus Moto-Dome is programmed to use POE voltage as a preference automatically; then if the POE fails or the line is cut, the Dome switches over to 12V DC quickly without any blip or glitch. Then, if installed, it will start recording to the optional SD Card. Then, when the POE line is restored, the Camera will automatically download its recordings and place them in the correct date/time place in the archives.
The Occulus Moto-Dome IP camera has a lot more features, and to find out more about those features contact one of our Design Engineers here at EnviroCams toll-free 866-264-0041 or stop by our website.