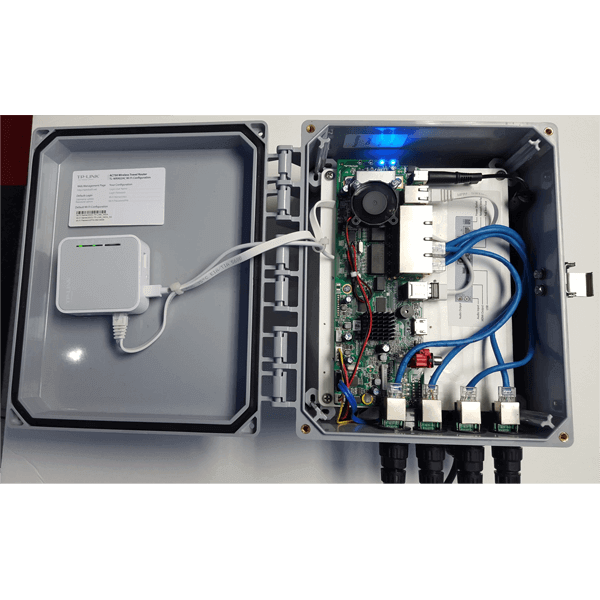 The outdoor system from EnvrioCams is the RuggedVision5-8 Channel Outdoor IP Network Video Recorder. This revolutionary stand-alone Outdoor IP Network Video Recorder is already in use at Subdivision Entrances, Construction Sites, Tour Boats, Oil & Gas Well Sites, and countless other remote locations. Hidden in a small 10" x 8" box, no one will ever think that there is a full-featured 8 Channel IP System tucked inside.
What makes this system work, we start with an eight-channel NVR with all the features that all our NVRs have. The system has a TP-Link WiFi box connected that gives the operator the ability to control, program, and review footage from any iPhone Tablet or Laptop that is within approximately 200 feet. There is a 1 Terabyte Solid State Drive that is recording all the cameras, is equal to a 4Tb drive on a regular H.265 system, and an 8Tb drive on a normal H.264 system.
This innovative IP System also features the "Plug-N-Play" operation. Gone are the days where you had to address a camera and map it to a port manually. This system is entirely automatic.
This long-distance IP Camera System can go the distance, guaranteeing at least 800 feet for Power, Video, and Audio over standard CAT5 or CAT6. (If using pan tilt zoom cameras, you have to use the power supply that comes with the camera.)
This Outdoor IP Network Video Recorder is Onvif compliant and will work with almost any brand of cameras. (up to 8 Megapixels each).
This unique first of its kind IP system comes with a 3 Year Warranty and full Tech Support for Life.
To get more information, the on Outdoor IP NVR System contact one of our Design Engineers toll-free 866-264-0041 or stop by our website at envirocams.com.