RuggedVision-5 Gen II – 8 Channel Outdoor IP Network Video Recorder
The RV-5 has been incredibly popular, and we are pleased to announce that we have made a few changes to improve the RV5 performance. There have been so many changes we also upgraded the name! The "RV5 Gen II" has a more powerful processor, and can handle more video bandwidth than the original RV5. What does that mean to you? No delays on the "live view", and better, more consistent frame rate on the recorded video. It also means that higher resolution cameras can be used. This is still the rugged Outdoor IP Network Video Recorder with 8 Channel POE in a NEMA-4 waterproof and weatherproof box, but now it has even better performance. This long distance IP Camera System can really go the distance, guaranteeing at least 800 feet for Power, Video and Audio over normal CAT5 or CAT6. The new processor runs cooler as well, so we also removed the only moving part – the fan. No worries, we replaced the fan with a very large heat sink that actually works better than the fan did.
This revolutionary stand-alone Outdoor IP Network Video Recorder is already in use at Subdivision Entrances,
Construction Sites, Tour Boats, Oil & Gas Well Sites and countless other remote locations.
Hidden in a small 10" x 8" box, no one will ever think that there is a full-featured 8 Channel
IP System tucked inside.
This IP -based NVR is equipped with H.265+, which is 1/4th the file sizes of H.265.
Therefore, the 2 Terabyte Solid State Drive that is recording all the cameras, is equal to a 4Tb
drive on a regular H.265 system, and an 8Tb drive on a normal H.264 system.
The system has a TP-Link Wifi box connected that gives the operator the ability to control,
program and review footage from any Phone, Tablet or Laptop that is within approximately 200
feet. In addition, the TP Link has a slot for a 4G USB Modem that allows for cellular service
so that you can control the system from anywhere in the world. (See Warranty Discalimer below about this device)
This innovative IP System also features "Plug-N-Play" operation. Gone are the days where
you had to manually address a camera and map it to a port. This system is completely
automatic.
This Outdoor IP Network Video Recorder is Onvif compliant and will work with almost any brand of cameras. (up to 8
Megapixels each).
There is also a 4K HDMI output, as well as USB Mouse connection, if you ever need to
access the system directly.
This unique, first of it's kind IP system comes with a 3 Year Warranty, and full Tech Support
for Life.
NOTE: Warranty DOES NOT cover the TP-Link device included for WiFi and/or possibly your own 3G/4G devices.  We do not make this device.  We only include it for the ability to have WiFi coverage in the immediate area of this Outdoor NVR. Please contact TP-Link about any included Warranty, or with any other features this model may have or support. If you elect to buy a 3G/4G Dongle to operate the WiFi unit with Cell Card coverage, we do not Tech Support this function or Warranty this function. It will be between the end user and TP-Link to work out any issues beyond our provided and intended use – which is for WiFi coverage in the immediate area of the NVR. We test the WiFi feature before this unit leaves our Plant, but we do not, and cannot test the 3G/4G Fetaures. Therefore, we cannot Tech Support this feature or Warranty it.
Overview of The RuggedVision-5 8 Channel Outdoor IP Network Video Recorder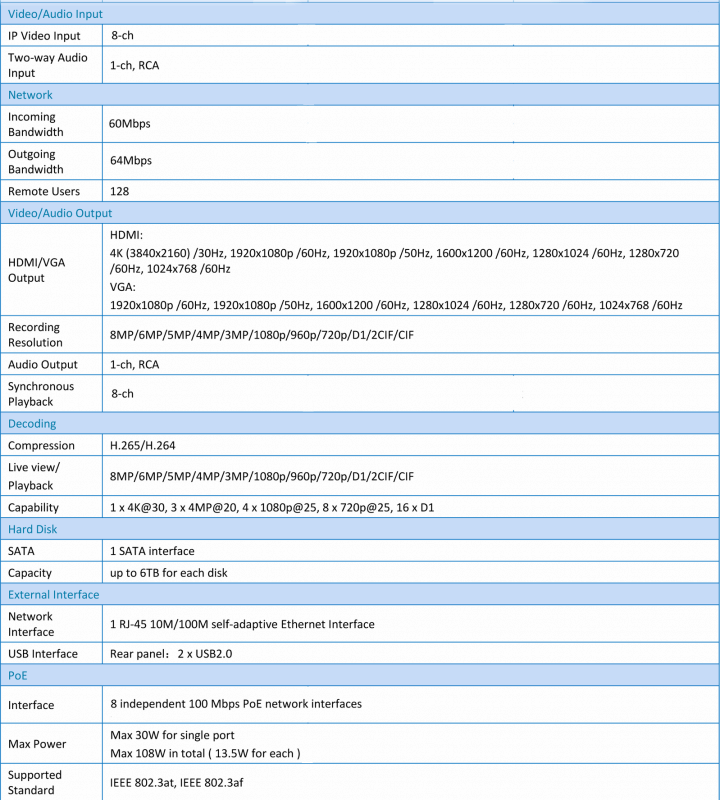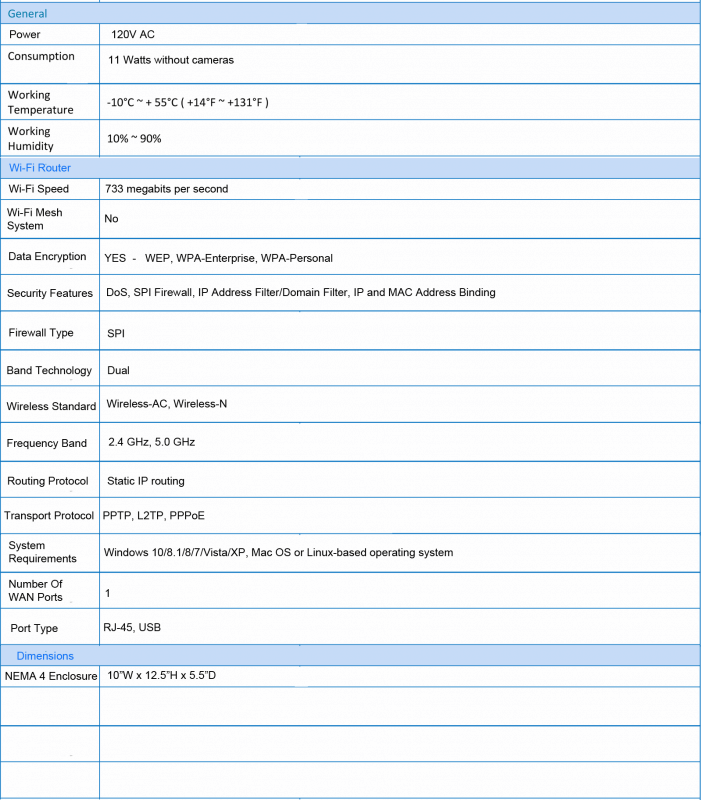 The Rugged Vision comes with a 1 Year Warranty