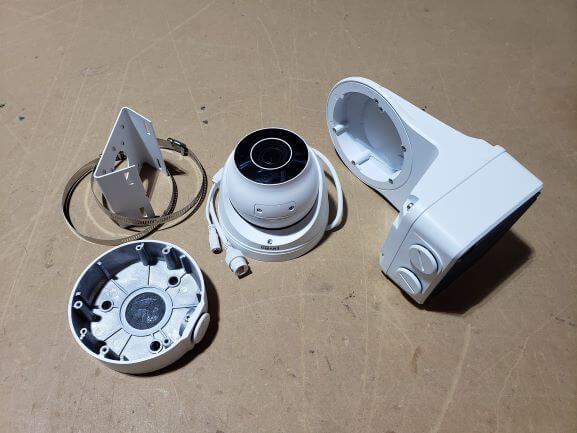 The Occulus Eyeball Turret Camera is an IP IR Dome Camera and one of our best sellers. Integrators and End Users alike Love this camera for its many features and higher resolution. The fact that it has a built-in microphone is also valuable and is another reason this camera is so popular.
Features
IP67 Weatherproof – Indoor or Outdoor
Wide Temperature Rating: -40º below to +140º F
WDR (Sony's 120dB Wide Dynamic Range)
Large 1/3" Progressive Scan CMOS Chip for better light gathering ability
4 Megapixel Resolution (2592×1520 max) – H.264/H.265/MJPEG options – Triple Stream capable
Motorized 2.7mm to 12mm Varifocal Auto-Focus Megapixel Lens
Optically Clear Glass front protects the lens that maximizes the amount of light reaching the lens, and a specially made polycarbonate ring covering the IR LED's, which has a special coating that controls reflection and passes Infrared Light easier and farther
Up to 100′ Infrared Illumination with Intensity-Controlled Smart IR's
Narrow View Hallway Mode Menu option (9:16 ratio)
Optional Onboard Micro SD Card for stand-alone or POE loss Recording – with Automatic Download to NVR when POE is restored (purchase a pre-formatted/pre-installed SD Card on this page)
2D and 3D Digital Noise Reduction options
High-Definition IP
In addition to the features listed above, this HD-IP Infrared Camera is fully OnVif compliant with just about any IP System. The long-distance Video/Audio/Power (820 feet), is only attained when connected to the Enviro Cams NVR's or Switches.
Occulus has automatic Day/Night functionality with an IR Cut Filter and a low light changeover (at 0.02 Lux). The camera uses Intelligent Metering to gauge the available light continually and picture darkness to set all of the lighting parameters, such as Brightness, Backlight Compensation, etc. and places them in milliseconds always to deliver the best possible picture under all lighting conditions.
Power Over Ethernet (POE)
The Occulus Moto-Dome Camera operates on POE (IEEE802.3af), or 12V DC (both inputs provided), and typically only pulls 3-4 watts during the day. Still, at night with the Infrared Lamps on and the motorized Zoom lens operating, it can pull a max of 8.16 watts.
The Occulus Moto-Dome is programmed to use POE voltage as a preference automatically; then, if the POE fails or the line is cut, the Dome switches over to 12V DC quickly without any blip glitch. Then, if installed, it will start recording the optional SD Card. Then, when the POE line is restored, the camera will automatically download its recordings and place them in the correct date/time place in the archives.
TO get more information on our IP IR Dome Camera, contact one of our Design Engineers toll-free 866-264-0041 or stop by our website at envirocams.com.