SMALL DOME SECURITY CAMERA
Micron-IR 8 Megapixel (4K) Pocket-Dome
The Micron-IR IP Pocket-Dome Camera from Enviro Cams is an 8 Megapixel (4K) Infrared Network Small Dome Security Camera that can throw out IR Light up to 100′ on a Moonless Night. The IP 4K dome camera is a great tool to fight against crime in the daytime and night. 
The 2.8mm Fixed Lens is Super Wide (90 degrees) and is best used where the watched area is close. For example, when watching a door entry or exit, the area in the best focus is approximately 8-12 feet out. Anything farther out still looks excellent, but the best focus is within that 8-12 feet. The IP 4K camera makes a great upgrade option for our Vehicle Damage Inspection Systems (MEGA STIX) to help detect damage on vehicles before they enter your cleaning tunnels. They will save you thousands on insurance claims every year. 
One of the great features of this camera is the REAL Optical WDR (Wide Dynamic Range – with 120dB gain) from Sony. Unlike Digital WDR, when turned on and fine-tuned, this feature can really help with blinding glare, and when the sun is behind a person, you are trying to see. Despite the prevailing conditions, this feature is yet another tool to tailor this camera to wherever you need it.
This IP Camera works well indoors and is hardened for outdoor use as well. For example, this dome camera is not only IP67 Weatherproof Rated for outdoor use in any weather, but is also IK10 Vandal-Resistant Rated. This means that this camera has been tested with the equivalent of a sledgehammer weighing more than 11 pounds – being dropped onto the dome from about 18" – with no damage.
Add in the fact that this camera is rated down to -35below and +140 (F), and you have a camera that is ready for anything you can throw at it.
Additional Features
The Micron-IP Pocket Dome 4K Camera has a unique feature; you can run the camera out 800 feet for power and video with standard Cat5e or Cat6 with our NVR or switch with extended distance is turned on.
The IP camera can operate on power over ethernet voltage 48V or 12V DC (12V can be used as a fail-over voltage. 
To get some of the features with the IP camera, you need to have our NVR or Switch, but you can use the IP camera with other systems because the camera is OnVif conformance. 
8 Megapixel Resolution (4K)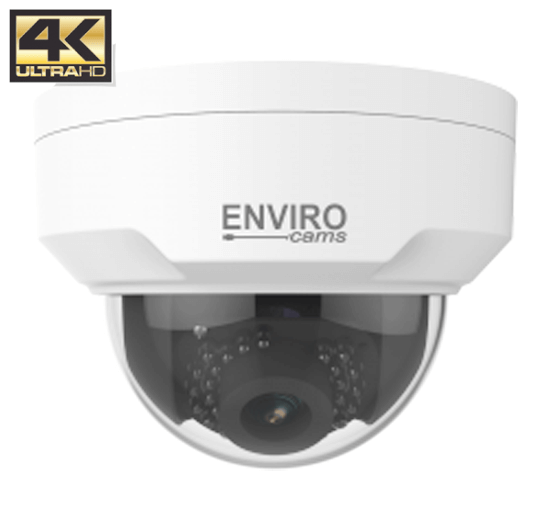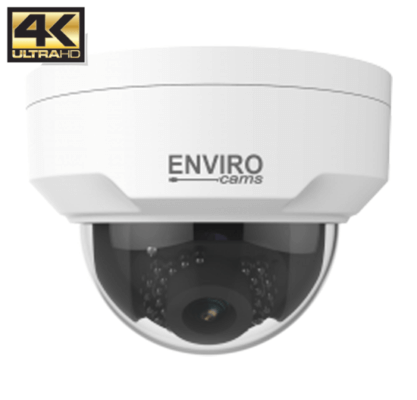 To help take up less space on your hard drives, you have recording options of H.265, H.265+, H.264, and MJPEG Compressions (@1080p or lower). 
The Micron-IR IP Pocket Dome 4K Camera does more than a video; this camera is packed with intelligent analytics. When these features are turned on, the camera will alert you of things that happen around your property. Here are a few features: intrusion and motion detection or line crossing will let you know that someone is not supposed to be in an area. A de-focus or camera tampering feature will let you know if something is put in front of the camera or even the lens has been spray with something. Scene Change is another Identification feature. The Micron-IR can alert you if something in the scene should change, such as missing a valuable laptop or a high-value item that is no longer on the shelf. 
Enviro Cams Warranty and Tech Support
The Micron-IR IP Pocket Dome 4K Camera comes with a 3-year warranty, with unlimited tech support for life. 
The Tech-Support toll-free number is 866-283-6003, which can be reached Monday thru Friday, 8 AM to 4 PM (Central Time), closed Saturdays and Sundays. 
We also have a tech-support page on our website with lots of how-to videos that are open 24 hours, 7 days a week. If not sure of the video quality of the cameras, we also have video from here on our property; in most cases, it shows you day and night video. 
About us and how to get in touch
Enviro Cams is a member of The Rugged Group, a family of companies headquartered in Texas. For more than 25 years, The Rugged Group has been manufacturing and Patenting products in the Security Industry. We have Design Engineers here to give a free quote for your site; all you need to do is send us your site plan; we will get you that quote within 24hours. For more information on the IP 4K Dome Camera, contact one of our Design Engineers toll-free at 866-264-0041.