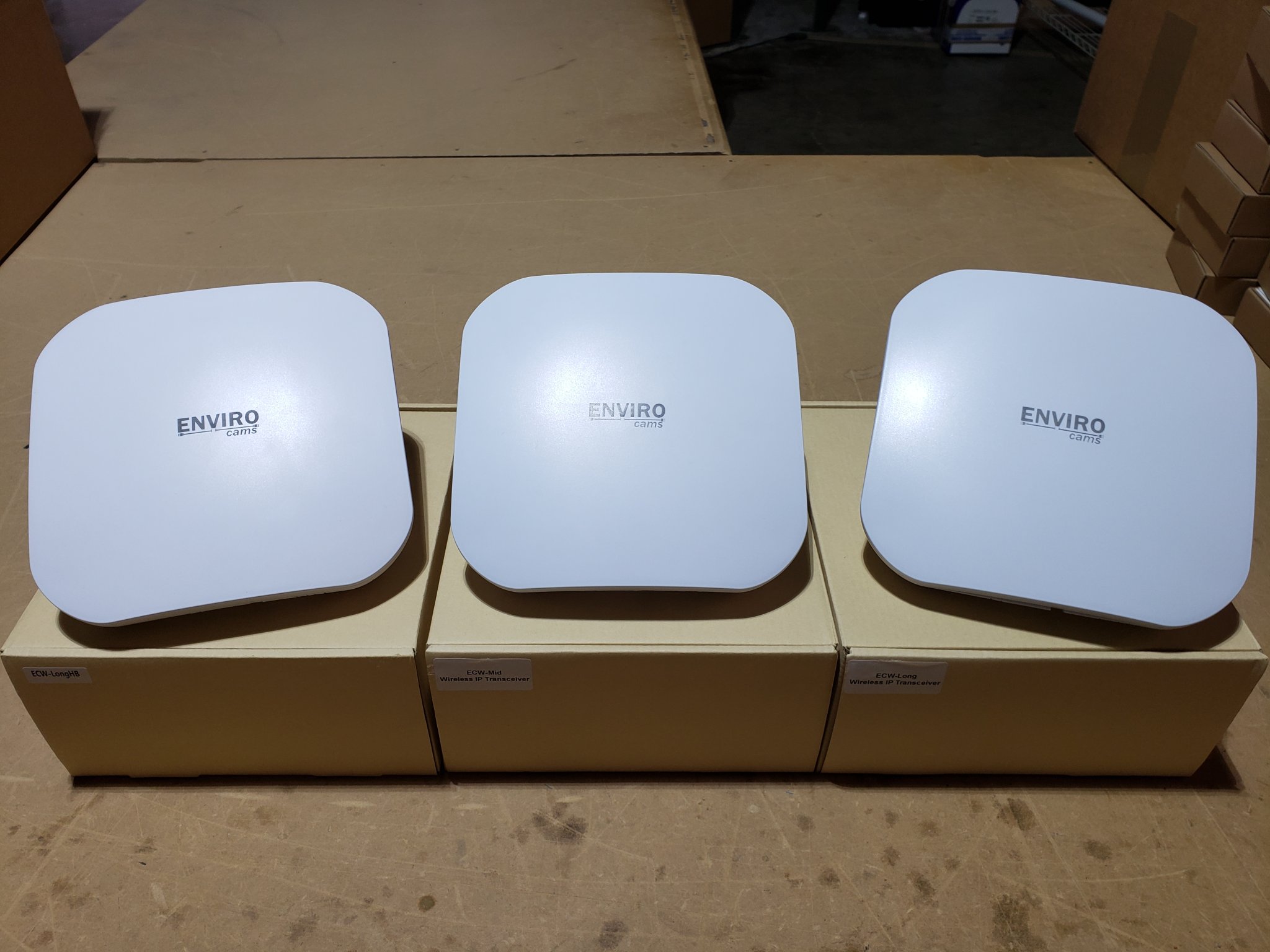 EnviroCams has three low-cost models of Wireless IP Transmitters, all broadcasting in the 5.8Ghz band, because there are so many devices that are crowding the 2.4Ghz frequencies. All three are encrypted by using WEP 64/128 bits, WPA, WPA2, 802.1x. Go wireless with no worries.
All models can be used for relatively short and long distances, as they will throttle the power down or up automatically (the high bandwidth model must be changed manually for shorter distances) based on reception. These wireless transceivers can be operated as short as 100 feet outdoors, and as far as 9800 feet.
The ECW-Mid Model has a range that is typically used from 300 feet to 6500 feet (but can be operated at shorter distances if needed).
The ECW-Long Model is usually used from 900 feet to 9800 feet (but can also be operated at shorter distances if needed).
The ECW-Long Range – High Bandwidth Model can also be used anywhere from around 900 feet to 9800 feet. (Please Note: This model is not compatible with the other two models. You must use this model in pairs only).
The best part about these wireless panels is that they are entirely PLUG-N-PLAY. Simply aim them at each other, and they will connect automatically. No IP addressing, no hassle! Simply set the type of operation with dip switches (camera side or access point side) then match the frequencies between two or more panels, and fire them up. It is really that easy.
The mid-power model will easily handle up to 10 Mbps bandwidth per panel, and the longer distance model can handle up to 12 Mbps bandwidth. The high bandwidth model can handle up to 32 Mbps per panel.
Two or more panels can be used to point to a single access point, as long as these criteria are met:
The total bandwidth of the access point has not been exceeded.
The angle between two or more panels is not greater than 60 degrees.
Example: Panel at the gate has two 2 Megapixel 1080p cameras, the second panel at the barn or outbuilding has four 2 Megapixel 1080p cameras (each 2 Megapixel camera is approximately 6Mbps bandwidth).
So the access point panel at the main building where the NVR is located can easily handle the resulting 36Mbps bandwidth.
For more information on our Wireless IP Transmitters, contact one of our Design Engineers toll-free 866-264-0041 or stop by our website at envriocams.com.