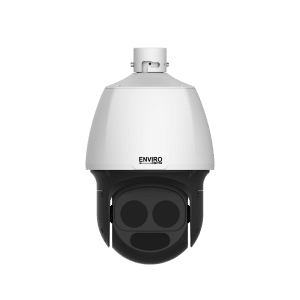 Outdoor Starlight Laser IR PTZ
The Laz/IR is a 2 Megapixel Outdoor Starlight IP IR PTZ Camera that actually has an Onboard Laser Infrared Module that Lasers Light as far away as 1600 feet! This incredible Laser Module also zooms and narrows in synch with the 33X Zoom Lens, so they work in tandem to make sure that the area you are trying to see is illuminated – even if it is more than a ¼ mile away (or further).
The Laz/IR also has regular Infrared Lamps onboard for illuminating people or objects that are closer to the cameras as well. So it is not only an excellent long-distance camera – but a great close-in camera as well. You get the best of both worlds with the Laz/IR PTZ.
The IR Lamps are controlled via Smart IR, which controls the brightness based on the picture – if something is too close and starts glaring too much white in the picture, it turns down the intensity.
The Motorized Zoom Lens(4.5mm to 148.5mm), is intended to zoom down fence lines, all the way across a warehouse, out to a gate or perimeter fence, or to zoom in really close on processes or machinery.
The view starts out at about 63 degrees wide, then zooms in to only 3.67 degrees wide.
So that should give you a pretty clear picture of what this camera is designed to do. It's made for Zooming in to see detail at greater distances (Digital Zoom can also be turned on).
This PTZ can have as many as 256 Preset positions, can run up to 16 Patrols and PatternsIt can perform these Patrols and Patterns at great speed as well – up to 300 degrees per second rotation is possible.
It also has a Home position that it will return to after a time you have set.
This PTZ Camera delivers 1080p resolution at 30fps, and can also be set to 720p or lower if needed. It also can carry an SD Card for stand-alone or emergency backup recording (up to 128Gb).
Would you like more information on the IP IR PTZ the Laz/IR Laser, contact one of our Desing Engineers toll-free 866-264-0041 or stop by our website at envirocams.com.