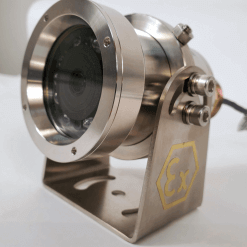 Our newest Explosion-Proof Mini IP Camera is ATEX Certified and can be used for monitoring processes, small spaces, mobile transport (propane, chemicals, etc.), and dusty environments. It is a small volume, lightweight, and is designed to meet the transport of dangerous goods, blast testing, and other volatile situations.
This Ex-Proof Camera is rated:
ATEX
II 2G Ex d IIC T6 Gb
II 2D Ex tb IIIC IP68 T80℃ Db
All C1-D1 locations are approved with this camera—for example, cannabis processing, propane transportation, and filling operations, etc.
This Ex-Proof Camera comes with an approximately 6-foot lead and a pre-installed RJ45 connector. There is also an adapter to allow the user to add threaded conduit connections (see threaded reducer in pictures).
Other measurements include:
Approximate Diameter: the main body is 3 inches and approx—3-7/8 inches wide, including mounting screws – from base to top 4-3/8 inches approximately.
Length: 4-1/4 inches to back of the camera (approx. 5-1/4 inches with reducer fitting included).
To get more information on the explosion-proof IP camera, contact one of our Design Engineers toll-free 866-264-0041 or stop by our website at envirocams.com.