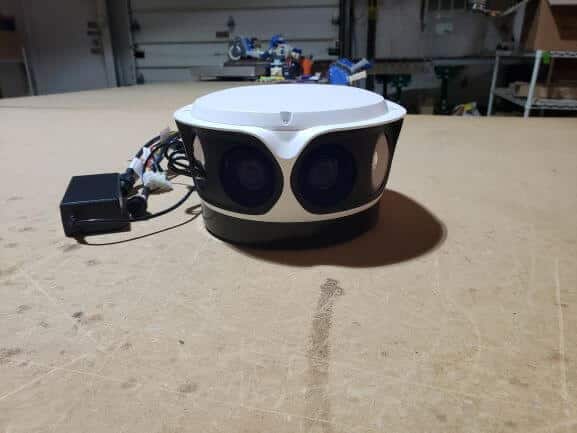 This surveillance camera can take the place of 4-6 cameras, made for a wide area like a parking lot or even a kids' playground. The 4K Parking Lot Panoramic Camera uses four separate cameras to stitch together a 180-degree view seamlessly. You will not be able to tell that it is not a single wide-angle camera – except that it's not a fisheye lens. 
The 4K Parking Lot Panoramic has four lenses (4.2MM each) that are 4K (8MP) with a 4096 x 1800 resolution @ 30fps. You can choose Smart Infrared for nighttime viewing to automatically throttle the Infrared Lamps' power as needed (black and white pictures). This feature results in Infrared light out to approximately 165 feet on a moonless night. Or you can turn the Infrared Lamps off and go into Starlight Mode. The Starlight Mode uses the smallest amount of light to give you a color picture at night. 
Extended distance ability 820ft over Cat5e/Cat6 for audio, video, and power (for a power run 12 gauge AWG or thicker) when connecting to our NVR, or use fiber because this camera has two fiber connections built-in. With audio in and audio out hook-up, you have two-way communications (need to add a mic and speaker), you also have an alarm input and output. It supports many Smart Analytics people counting, face detection, line crossing, intrusion, and many more features.  
Tons of features are included with this 4K Parking Lot Panoramic Camera remarkable camera. For more information, contact one of our Design Engineers toll-free at 866-264-0041 or stop by our website envirocams.com.