N-SPEX Stix Trux – IP
A New Addition to the N-SPEX Vehicle Inspection System family of Vehicle Damage Inspection Systems.
View & Document the front, back, sides and top of all Trucks, Trailers, Rail Cars, etc. Truck / Trailer / Cargo / Container / Rail Car Damage Inspection System N-SPEX TRUX STIX
8 Hi-Resolution HD Cameras 1080p
each cameras zoom function can be controlled through the NVR
Standard Height is 13' 6" (custom heights and # of cameras available)
White powder coated aluminum (custom powder coat colors available)
Available Striping:
Red/White
Black/Yellow
N-SPEX Cameras are so small as to go unnoticed, yet are rugged and completely vandal-proof. Sealed, watertight housings are weatherproof and high-pressure wash-down resistant (NEMA IP-66 rated). These High-Resolution cameras are made from rugged metal and feature a thick Lexan viewing dome with adjustable camera angle depending on how far away from the entrance you wish to start seeing the vehicle.
These High-Resolution cameras are pre-adjusted and pre-focused to provide the perfect solution to the viewing angles and distances you need to adequately document the condition of vehicles entering and leaving your facility. This makes installation a snap!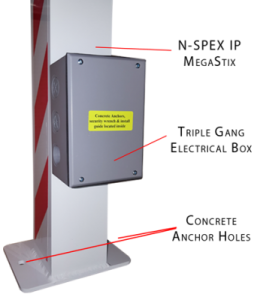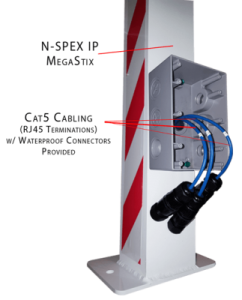 The N-SPEX TRUX STIX will give you a view of:
Left Side STIX: Left Top of Vehicle, left Side Upper, left Side lower, Front of Vehicle & License Plate
Right Side STIX: Right Top of Vehicle, Right Side Upper, Right Side lower, Rear of Vehicle & License Plate
download spec drawing here
Specifications
| | |
| --- | --- |
| Dimensions | 13′ 6″ Tall x 6″(inch) Square |
| Surface Attachment | 4 – 3/8″ x 3″ Concrete Anchors (included) |
Cameras
| | |
| --- | --- |
| Image sensor | 1/2.9″ Sony CMOS (XM-222) |
| Effective pixels | 1944(H) x 1092(V) |
| H. Resolution | 1080p |
| Synchronization system | Internal |
| Scanning system | Progressive |
| Video output | IP – 1.0Vp-p Composite 75 Ohms |
| S/N ratio | More than 52dB (AGC Off) |
| Min. Illumination | 0.1Lux |
| Shutter Speed | Auto (1/30sec – 1/60,000sec) |
| Gamma Correction | Standard y = 0.45 |
| White Balance | 1,800 °K ~ 10,500 °k Auto |
| Gain Control | Standard : -6dB ~ 44.8dB Auto |
| Smear Effect | 0.005 |
| Power source | 12v DC |
| Power source | 110mA |
| Lens | 4mm |
| MTBF | 80,000 Hours |
| Iris Control | Electronic |
| Operating temp./Humidity | 14°F~ 120°F (Humidity : 0 RH ~ 90 RH) |
| IP Rating | 66 |
| Dimensions | 3.10 Diameter x 2.25 Length |