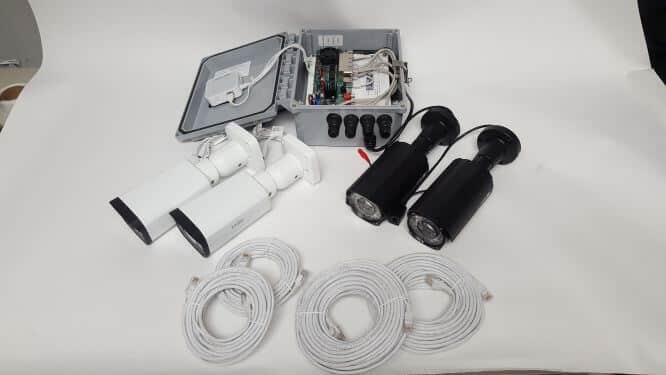 Overview & License Tag Capture Cameras with WiFi Recorder Access
Outdoor IP System for Documenting Vehicular Traffic Entering/Exiting Subdivisions, Remote Sites, Gated Entries, Lots, and other Non-Manned Sites.
DIY Kits are when you already have a pole or poles or even a building to mount the system. Your wiring will not be hidden if pole mounting, but this may be the most straightforward install for you. (Our Pre-Built systems pre-mounted on poles do not have any exposed wiring.)
Dual Lane/Entry or Gate System DIY Kit (part # EGS-2)
8 Channel RV-5 Outdoor IP System with two Overview Cameras(N-Range Camera) and two License Plate Capture Cameras(TagShot-IP Camera). Cameras can be up to 820 feet away from the Main System (longer if the wireless transmission is possible – but we aware that additional power will be needed for wireless equipment). Let us know your cabling lengths required, or contact us if you think wireless will be necessary.
For more information on the subdivision license tag capture systems, contact one of our Design Engineers toll-free at 866-264-0041 or stop by our website envirocams.com.