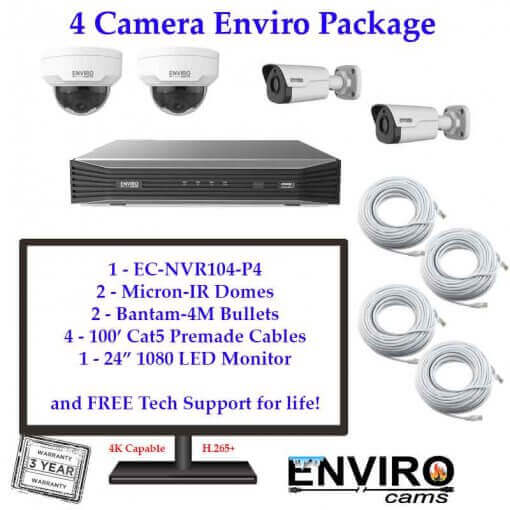 Purchase your special someone a four-channel IP Camera package from EnviroCams.
Premium All-Inclusive System
View on Smart Phone, tablet, or PC
1 – 4 Channel NVR – 6TB Storage: with all the features, not a stripped-down model, and the same three-year warranty. Features like: Plug-N-Play Automatic Connections (Put an end to setting each IP address – Let Enviro Cams do it automatically!) or Extended Distance for Audio/Video/Power (820 Feet Over Cat5/6)
2 – Micron-IR Dome Cameras: with features like Super Wide-angle 2.8mm Fixed Lens (90 degrees wide) and IP67 Weatherproof Rated for outdoor use in any weather.
2 – Bantum-4M Bullet Cameras: with features like 4 Megapixel (2K) with a built-in microphone. It gives you excellent high definition video indoor or outdoors and picks up audio very well.
4 – 100′ Pre-Made Cat5e Cables
1 – 24″ Color 1080p LED Monitor: The LED-backlit LCD color monitor presents a very rugged structure. It is designed for continuous operation and can be used in closed-circuit TV systems without excessive fatigue risks.
For more information on the four-channel IP camera package, contact one of our Design Engineers toll-free at 866-264-0041 or stop by our website at envirocams.com.